The San Lorenzo Church began construction in the 16th Century, but was not completed until the 18th. Today as well as being a convent and a church, it houses the Sacred Art and Archaeology Museum.
The Igreja de São Lourenço commonly known as the Igreja dos Grilos (Cricket Church) was founded in the seventeenth century in Porto, but was not completed until the eighteenth century.
Although it isn't particularly big, its simplicity makes it a very enjoyable visit. Its stark walls leave the numerous stones used to build the temple in plain sight. Compared to most churches in Porto, it is very plain and surprising, as most religious edifices in the city are excessively decorated.
Sacred Art and Archaeology Museum
The Sacred Art and Archaeology Museum is adjacent to the church and you must cross a wooden door to the left of the church to access it. Despite its name, the Museum doesn't feature many archaeological objects.
Nevertheless, it is truly a fabulous sacred art museum. On the top floor there are several rooms with high stone ceilings with statues of saints, religious jewellery and liturgical objects.
Our opinion
Since the Igreja dos Grilos is so close to the Cathedral, we recommend you visit both religious buildings on the same day. If you have time and are interested in sacred art, you might also want to visit the Museum.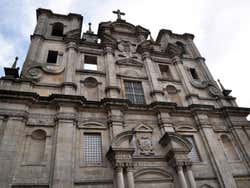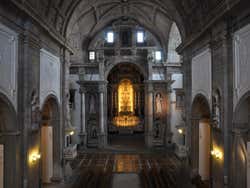 Schedule
Tuesday – Friday: 10 am – 6 pm
Saturday: 10 am to 12:30 pm and 1:30 pm to 6 pm
Sundays and public holidays: Closed
Price
Adults: € 3 (US$ 3.20)
Students: € 1.50 (US$ 1.60)
Porto Card, Disabled, Uniformed military, Clergy, ICOM members and Children 10 and under: FREE
Transport
Bus: lines 20, 23, 35, 82 and 84.