Rua Santa Catarina in Porto
Santa Catarina is the most important shopping area in Porto. This pedestrian street in the high part of the city begins in Batalha square, where you can see the church of San Antonio de los Congregados.
Rua Santa Catarina (Santa Catarina Street) is the most important shopping thoroughfare in Porto. This pedestrian street is located in the high part of town and starts from Praça da Batalha in the city centre, itself housing the pretty Igreja dos Congregados dedicated to Saint Anthony, with a beautiful tiled façade.
Walking down Santa Catarina, you'll come across Via Catarina Shopping Center, which is also very close to the Mercado do Bolhão (Bolhão Market), which is worth visiting.
If you continue walking in the same direction, you'll see a charming chapel called Chapel of Souls. This unique shrine dates back to the eighteenth century and is completely covered in the typical blue Portuguese tiles. Santa Catarina street comes to an end in Praça Marquês de Pombal.
Rua Santa Catarina is packed with international stores like Zara, H&M and Promode. It also has numerous restaurants, street vendors and coffee shops such as the renowned Café Majestic. We recommend taking a break and having something to eat or drink in this elegant café before continuing with more shopping.
Café Majestic
Café Majestic is an elegant coffee house opened in the 1920's in which you'll feel a part of Porto's history. It was inaugurated on 17 December 1921 under the name of Café Elite and it quickly became the meeting point for Porto's most distinguished citizens and where many writers, poets and artists have found their inspiration.
The Café was neglected and abandoned for over 15 years until the city of Porto declared it a cultural heritage site in 1983 and after years of reconstruction work, it reopened with the same glamour as before.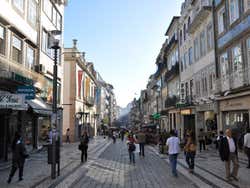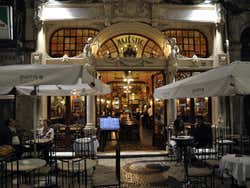 Transport
Metro: Bolhao, (lines A, B, C and E).