Inaugurated in 1914, the Mercado do Bolhão (Bolhão Market) is located in the city center and holds the essence of the city. A must-see.
Close to Avenida dos Aliados is one of the most popular and lively markets in Porto. The Mercado do Bolhão (Bolhão Market) was opened to the public in 1914 and specializes in meat, fish, fruit, flowers, vegetables and other colourful products.
The Market has several floors packed with farmers and other citizens selling fresh produce and typical products from the region around a large central courtyard. This immense and decayed structure holds the essence of the city and is a great place to discover the "real Porto" and the essence of the city has been perfectly preserved.
Moreover, there are numerous traditional and authentic shops around the Market, chiefly fishmongers specialized in cod that are worth exploring.
Not to be missed
The building's worn down appearance is part of its charm and it has become one of the most emblematic parts of Porto. The Mercado do Bolhão is a reference point, where you can get an idea of the daily life of the citizens of this enchanting city.  
If you're not looking for fresh produce, you probably won't purchase anything in the Market, however it's still well worth visiting and enjoying its nostalgic atmosphere.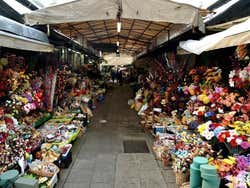 Schedule
Monday to Friday: 8 am to 8 pm
Saturdays: 8 am to 6 pm
Sundays: Closed
Transport
Metro: Bolhao, lines A, B, C, E.