Where to Stay in Porto
Porto is the perfect city to visit if you have a tight budget to travel. Apart from the flights, which depend on where you're coming from, accommodation is relatively inexpensive. Normally, a double room in a centrally located hotel costs 25€ per night. Moreover, restaurants are also low-priced and the public transport is also quite reasonable.
Best areas to stay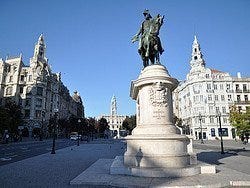 Praça da Liberdade
One of the most popular areas to stay and where most hotels are in the surroundings of Torre de los Clérigos and in the neighboring Praça da Liberdade, in central Porto.
Other nice areas include Praça Batalha and Mercado do Bolhão, which are both very near the city center and well communicated.
If you prefer to stay in a quieter neighborhood, a little further away from the heart of Porto, we recommend you look for accommodation in Praça da Republica.
Hotels in Porto
If you book in advance, you can find centrally located hotels from 25€ per night.
To find the best deals, we recommend our search engine where you'll find the best rates guaranteed and discounts of up to 75%:
Apartments in Porto
If you prefer to stay in a serviced apartment, our search engine also includes the best offers:
Hostels in Porto
Since hotels are so cheap in Porto, the money you'll save by booking a hostel doesn't seem worthwhile. Hostels usually cost approximately 14€ per night and we would only recommend this type of accommodation if you're traveling with a lot of friends or traveling by yourself.
The following two websites offer a great variety of hostels in Porto:
Camping sites in Porto
If you prefer to connect with nature during your stay in Porto, you can stay in a camping site near Porto: