Museu do Carro Eléctrico in Porto
The Museu do Carro Eléctrico, Tram Museum in English, is housed in an old Thermo Electric Power Plant in Massarelos, next to the Douro in Miragia neighbourhood.
The Museum is exclusively dedicated to restored heritage streetcars, from the oldest pulled by horses to trams that date back to the 1950's and 1960's. It also features a collection of the tram driver's original uniforms and other interesting items plus numerous photographs of the tram workers.
One of the main highlights of the Museu do Carro Eléctrico are the restored vintage trams. The oldest and most unusual was built in 1872 and was horse-drawn.    
Trams in Porto
The tram was once a popular means of transport in Porto and it was one of the first cities in Portugal and Spain to adopt this comfortable and ecological vehicle, in 1895.  
When other faster and more modern transportation took over, the tram fell into decline. In the 1960's, Porto got rid of 65 km of tracks. However, in 1974, there were still 489 trams still running on a daily basis.
Nowadays, trams in Porto have become a popular attraction for the city's visitors, more than a useful means of transportation.
To keep in mind
The ticket to the museum is also valid for a single-journey on one of Porto's vintage trams, including the one that travels just in front of the Tram Museum.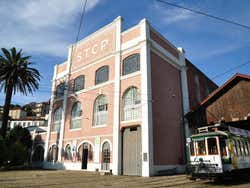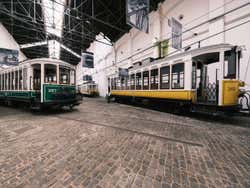 Schedule
Monday: 2 pm – 6 pm.
Tuesday – Sunday: 10 am – 6 pm.
Price
Adults: € 4 (US$ 4.30)
Children from 4 to 12, students and seniors: € 2.50 (US$ 2.70)
Children up to 4 years old: free
Transport
Tram: lines 1 and 18.
Bus: 500.