Although it is often believed to be part of Porto, Vila Nova de Gaia or simply Gaia is a city in its own right, located on the other side of the Douro.
Vila Nova de Gaia has a pretty promenade along the waterfront and is a great place to go for a walk and enjoy the remarkable views of the Dom Luís I Bridge and the picturesque neighbourhood of Ribeira in Porto and its terraced colourful houses. Another great thing to do is to take a cruise down the Douro River or visit some of Porto's famous wineries and vineyards.
One of the most typical images of Gaia are the "rabelo boats", small traditional wooden boats that were originally used to transport the barrels of wine across the river and have nowadays become cruise boats for tourists that wish to explore the Douro.
How to get to Gaia
Cross the Dom Luís I Bridge from Porto to get to Gaia. The easiest way to cross the overpass is on foot or you can also take a bus on the bottom part of the bridge. On the other side of the structure are Gaia's wine cellars, numerous restaurants on the waterfront and the dock, from where you take several types of cruise boats.
You can also get to Gaia by tram or metro on the upper part of the bridge, but these means of transportation will leave you quite far away from Gaia's waterfront.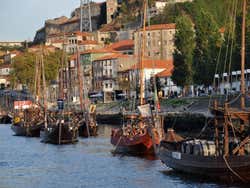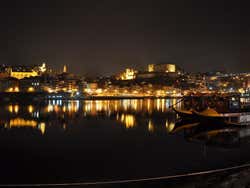 Transport
Bus: lines 900, 901 904 and 906.