Porto Cathedral – Sé do Porto
Built in the highest part of the city, the Sé Cathedral is the most important religious building in Porto. It is located in the Batalha district, next to the walls that once protected the city. The exterior of the building has the appearance of a fortress with battlements.
The Porto Cathedral (Sé do Porto in Portuguese) is the most important religious edifice in the city and has been declared a National Monument. It is situated in the upper part of Porto.
The Cathedral is in Batalha, very close to the walls that once protected the city. The building looks a bit like a fortress with crenels from the outside.
The construction of the Cathedral began during the twelfth century, but it was rebuilt and renovated numerous times throughout the centuries. This explains why the Cathedral is a mix of architectural styles. The temple is predominantly Baroque in style, although its façade and the nave are Romanesque and its cloister and one of the chapels are Gothic in style.
Inside, the large pillars make the nave seem narrow with a high ceiling. It has a restrained decoration with bare walls and only the high altar and some of its chapels are decorated in a Baroque style.  
Cloister
The entrance to the cloister is located inside the Cathedral, through a door to the right of the temple. The cloister dates back to the fourteenth century and is decorated with tiles painted with some of the scenes from the Bible. From the cloister, you can also visit the Casa do Cabildo, which features the Cathedral Treasure, a collection of it's most precious possessions.
Well-worth visiting
The Porto Cathedral and its cloister are two of the best attractions in Porto and a definite must when visiting the city.
The Cathedral sits on a square with a column in the middle. This is where the criminals of Porto were hanged. The square also offers impressive views over the city, the Douro River and the wine cellars on the waterfront.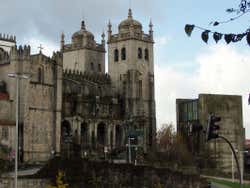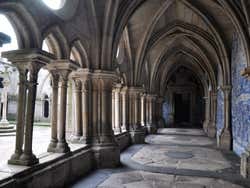 Schedule
April – October: 9 am –  6:30 pm.
November – March: 9 am –  5:30 pm
Christmas and Easter: closed.
Price
Cathedral: Free entrance.
Cloister: € 3 (US$ 3.20)
Children (up to 10 years old): Free entrance.
Transport
Metro: San Bento (Line D).