Best Cellars in Porto
Most Porto cellars and wine lodges are located in Vila Nova de Gaia, on the other side of the Douro River. Porto wine has been produced in this region for several centuries, aging the world's most famous fortified wine in wooden barrels.
Porto wine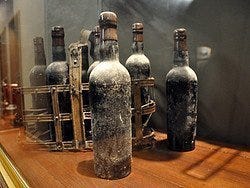 Vinos de Oporto gran reserva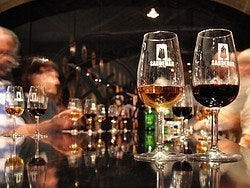 Wine tasting in one of Porto's wineries
The fundamental difference between Porto wine and the rest of the wines is how it is fortified with aguardente, a spirit of neutral grapes that stops the fermentation. Thus, the wine preserves the original sweetness of the grapes but has a high alcohol content.
When British merchants discovered Porto wine in the seventeenth century and transported it back to Britain, the wine always went bad during the journey, so they decided to fortify it with aguardente so it wouldn't go bad.  
Wine tours in Porto
You can visit numerous wine lodges in Gaia, where you'll explore the installations with a guide that will explain the wine making process.
The tour ends with a tasting of the Cellar's wines (usually two select Porto wines).
Best Cellars to visit
We've made a list with the most important wine tours and cellars in Porto:
Must-see
Visiting at least one of Porto's renowned wine cellars is an absolute must. It is one of the most interesting attractions in Portugal's second most populated city.
Tips
The guided tours are carried out in the language chosen by the first person to reserve the visit, so be sure to book the visit with time.
If you want to visit several Cellars, you can purchase a combo ticket. An interesting option is a ticket that includes the Sandeman, Offley and Ferreira wine lodges.
If you take a sightseeing cruise along the Douro River, the promoter will probably offer you combo tickets with a wine cellar. Make sure the price is worthwhile because sometimes the Cellars included in the ticket are free to visit.
Transport
Bus: lines 900, 901 904 and 906.