Palácio da Bolsa in Porto
The Palácio da Bolsa (Stock Exchange Palace) is currently the headquarters of Porto's Commercial Association. The building was constructed mid-nineteenth century in a neoclassical style and is situated in the city center, next to St Francis Church.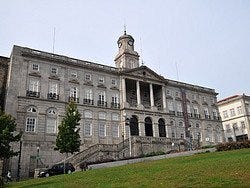 Palácio da Bolsa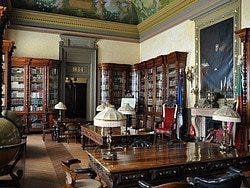 Inside the Palácio da Bolsa
This historical building was established on the ruins of St Francis Convent after it was burnt down during the Liberal Wars. The Palácio da Bolsa was built in 1842 but it wasn't opened until 1891.
Inside this neoclassical National Monument, you'll visit the large central courtyard called Pátio das Nações (Courtyard of the Nations). It is enclosed by a glass structure which lets in a beautiful natural light into the whole Palace.
Afterwards, you'll be taken up an impressive marble and granite staircase and explore the Golden Room, which is covered with gold-leaf, the General Assembly Room, completely decorated in wood and other splendid rooms until you get to the Palace's highlight, the Arab Room. This 300-meter sized room is decorated in Moorish style, inspired by the Alhambra and is where the official receptions are held.
Our opinion
The Palácio da Bolsa is one of the most interesting landmarks to visit in Porto. We recommend joining the half-hour guided tours, which include very interesting information about the Palace and the history of Porto.
The guided tour exists in four languages and the person that gets there first and purchases the ticket first, chooses the language of the guided tour, so we recommend you get there early.   
Location
Rua do Infante Dom Henrique, 4050.
When to visit
April – October: 9 am – 6:30 pm.
November – March: 9 am – 12:30 pm and 2 pm – 5:30 pm.

Fares
Adults: 8€
Student Card and Seniors: 4,50€

Transport
Bus: lines 1, 57, 91, 23 and 49.
Map
Hotels nearby