Porto Travel Costs and Prices
Generally, prices in Porto are quite inexpensive, especially eating out and entry fees to museums and attractions.
Keep in mind that in Porto, churches are free to visit and most sights are quite accessible.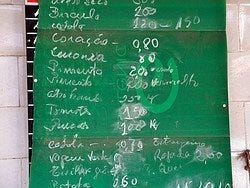 Prices of fresh produce in the Market
Some examples
We've written up a list with prices of some of Porto's products:
Food and beverages
A large coffee: 1.20€.
A traditional pastry: 0.90€.
A restaurant's daily menu in an average priced restaurant: 4.50€.
Transportation
Accommodation
One night in a centrally-located hotel: 70€ (approximately).