The Military Museum of Porto features a collection of light arms, uniforms, military equipment as well as a large selection of heavy artillery.
The Military Museum of Porto features an interesting collection of light weapons, army uniforms and armament, vehicles, cannons and heavy artillery. It might seem like any other military museum, but it has one great difference.
Porto's military museum has a stunning collection of miniature figures of soldiers from all the armies in the world and figures that represent the most prominent world military leaders and dictators, from Ramses II to Hitler.
Entertaining
You'll find visiting this museum quite enjoyable, especially if you're interested in the topic. However, it isn't one of the main sights to see in Porto, so we would recommend keeping it on a to-do list for the second time you travel to this magical city.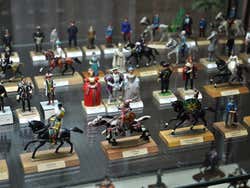 Schedule
Tuesday – Friday: 10 am – 5 pm
Saturdays and Sundays: 10am – 5pm (closed between 12:30pm and 1:45pm)
Mondays: Closed
24, 25 and 31 December, 1 January and Easter Sunday: Closed
Price
Adults: € 3 (US$ 3.20)
Children 7 to 17 and seniors over 65: € 1 (US$ 1.10)
Children under 6: Free entrance
Sundays: Free entrance 10 am - 12:30 pm
Porto Card: 50% discount.
Transport
Metro: Heroísmo, lines A, B, C and E.