Porto Shopping Guide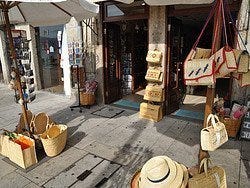 Souvenir shop in Porto
Although Porto is a rather small city, it has plenty of chic stores, shopping streets, traditional markets, modern shopping malls and traditional souvenir shops.
The most popular shopping street in Porto is Rua Santa Catarina packed with international retail brands like Zara, H&M and Lefties. This street is always full of people, except on Sundays when most stores are closed.
If you want to rest and have a coffee or feel a little peckish, you can stop at any bar or restaurant on the same street. One of the most-visited coffee houses in Porto is Café Majestic, an elegant 1920's café, which is perfectly well preserved.
Shopping centers
If it's raining, you might prefer to go shopping in Porto Gran Plaza mall, next to the Mercado do Bolhão.  The modern shopping center was recently constructed. It's five levels house over 75 stores that include fashion brands, homeware stores, accessories, shoe shops, bookstores and perfumeries.
If you are on Rua Santa Catarina, we recommend you step inside Via Catarina Shopping, a small shopping center, even if you're not interested in shopping. Head to the top floor and you'll find dozens of restaurants decorated as if they were typical Portuguese houses.  
Souvenirs
The most typical souvenir you can buy your family and friends is a good Porto wine. To choose the right bottle, we recommend you do a wine tasting in the city's most famous wine cellars, situated in Gaia.

Porto is also famous for its pastries, most of which are made of flour and egg. One of the most popular is the "pastel de nata", a crunchy, creamy, custard pastry. Comparable to the Lisbon's "pastéis de Belém".
Most of these traditional products can be purchased in the Mercado do Bolhão.